Business Sanitizing & Disinfecting Services | Commercial Cleaning Services
At V and W Cleaning, we are experts in creating clean, healthy, and safe environments. It is more critical than ever to ensure that everyone who enters your facility is germ and bacteria-free. Our business cleaning company specializes in cleaning services that disinfect and sanitize. These services will assist you in lowering the likelihood of disease in your facility.
V & W Cleaning provides business cleaning. It is vital to maintain an office or retail store clean. That is right, we guarantee the same 200% satisfaction regardless of the size of the project, as well as no haggling pricing and no contractual commitments to your royal cleaning services of commercial cleaning.
Retail establishments, restaurants, and workplaces are all examples of the same sort. We'll work around your schedule and maintain your office tidy for the office pride commercial. We can assist any size company by providing pride commercial cleaning with our one-hour booking service.
We Care About Your Clean!
What We Offer:
Capture and Removal Sanitizing System
Our skilled commercial disinfection services help you protect your clients and staff by utilizing cutting-edge technology and techniques, such as our unique Capture and Removal Sanitizing system. Simply said, we care about cleanliness, and it shows in our work, our people, our accountability to you, and our dedication to keeping our promises every day.
We Hold Ourselves to a Higher Standard:
We relentlessly pursue the finest cleaning standards at V and W Cleaning, with personalized programs designed to match your needs, whether for daily, nightly, or one-time office cleaning services. We are far from filthy. We deliver on our promises and follow up with each customer to ensure perfect satisfaction.
Business Cleaning Services for Any Industry
We provide skilled commercial cleaning services that encourage healthy work environments and keep your buildings dazzling, whether your firm is based in an office building, clinic, or school. Capture and Removal Sanitizing & Cleaning, a proprietary technology that outperforms standard cleaning processes, is available from our cleaning professionals. We also utilize environmentally friendly cleaning products that are incredibly effective without leaving any residue or scents behind. We have the equipment and strategies to manage your cleaning and disinfecting tasks regardless of the type of facility you have.
V and W cleaning professionals are skilled to remove organic loads and excessive soiling. They will then sanitize as needed, adhering to government organizations' criteria. Have any questions? Give us a call at (804) 315-9573.

Business Sanitizing Services
Every hospitality establishment aspires to reach a specific standard. One of the most significant elements in maintaining standards in services commercial cleaning is keeping a clean atmosphere free of viruses, bacteria, and germs. With the most severe cleaning standards, V & W Cleaning guarantees that your hospitality business shines. Contact us for more information about our thorough cleaning services.
Daily Services:
Services are available on a daily, weekly, and monthly basis.
Access to a portfolio of services is simple.
One agreement: lowers overhead and improves control.
One invoice: presupposes centralized and consolidated billing.
Access to a cloud-based Quality Assurance program through our V and W service link.
A single point of contact for all of your needs.
Response time, inspection, and standardization analytics
Digital, portable devices are used to conduct inspections.
One-Time Services:
Services are available on a daily, weekly, and monthly basis.
One-time cleaning services that are customizable
Quotes and pricing alternatives that are comprehensive
Task schedule and specification list in writing
High-quality products and equipment
Scheduling alternatives to meet your requirements
Maximum protection and security
Communication with supervisory personnel
Comprehensive cleaning plan
Sanitizing System for Seize and Removal
High-efficiency steam cleaning
Whether you own a café or a restaurant, you want to ensure that the 'wow' factor is present every time a customer visits. That can only be ensured by using the best cleaning service in town for commercial cleaning specialties. Allow V & W Cleaning to assist you in sanitizing your hospitality space.
V & W Cleaning offers quality cleaning services to assure your complete pleasure when it comes to cleaning specialty services. By adopting our bespoke cleaning tactics, we create a gold standard of deep cleaning for your business.
What Can We Do?
CUSTOM CLEANING MANAGEMENT FOR A SAFE, SAFE, AND HEALTHY ENVIRONMENT
OUR SERVICES, YOUR TIMELINE
We will become acquainted with your facilities and then devise a cleaning and disinfecting plan that is tailored to your specific requirements. We can schedule cleaning appointments at a time and frequency that is convenient for you and your business.
SAVING TIME AND MONEY
Outsourcing your cleaning services can help you save money and cut cleaning time by up to 25% while maintaining a clean, disinfected workplace.
ADVANCED TECHNOLOGY, PROFESSIONAL EXPERTS
Our cleaning professionals have received extensive training and employ specialized cleaning and disinfection technologies that significantly reduce dust and germs, among other components.
ENVIRONMENTS OF HEALTH AND PEACE
A clean workplace reduces sick days for employees and protects your clients from hazardous germs and bacteria.
All commercial cleaning services are customized to your office's needs. Most offices prefer daily cleaning from Monday through Friday, while others prefer cleaning only a few times per week. For office cleaning services, V & W Cleaning cleans your office as often as your organization demands.
Can't figure out how frequently you should clean your office? We welcome your call at (804) 315-9573 and look forward to working with you.
Why No Contracts?
Any business owner or operator understands the value of a clean workplace. It is for your employees as well as your consumers or customers. A clean and sanitary atmosphere has numerous advantages, regardless of whether you run a standard office building, a retail store, or any other type of space. The question is whether you have your employees clean up after themselves, have an in-house cleaning team, or pay professional cleaning companies.
WHAT ARE COMMERCIAL CLEANING CONTRACTS?
Working with professionals provides true peace of mind because they insist on a signed cleaning contract. This is the most effective way to begin working with your new cleaning business. A carefully designed cleaning contract leaves little opportunity for argument. Furthermore, properly written contracts spell out each party's specific roles and responsibilities.
In general, commercial cleaning encompasses both general and routine cleaning. Floors, internal walls, partition walls, lights, furniture, dining and kitchen spaces, window washing, and restrooms are all included. You can always add or remove items based on your own requirements.
This is one of the reasons why you should hire professionals with experience in your field rather than novices. They are familiar with the type of cleaning that a company like yours normally necessitates. Standard office cleaning for a retail facility, for example, will be significantly different from that of a medical office complex.
Cleaning and janitorial services, in general, include the following:
Floor cleaning
Vacuuming
Toilet sanitation
Restocking supplies
Kitchen cleaning
Trash can emptying
Sanitation of high-touchpoints like doorknobs
High dusting for cobweb removal
Glass surface cleaning
In addition to having no contracts, we also offer our 200% guarantee. That means we'll clean your apartment free of charge if you're not satisfied with our work. We will give you your money back if you're not satisfied with the home services commercial!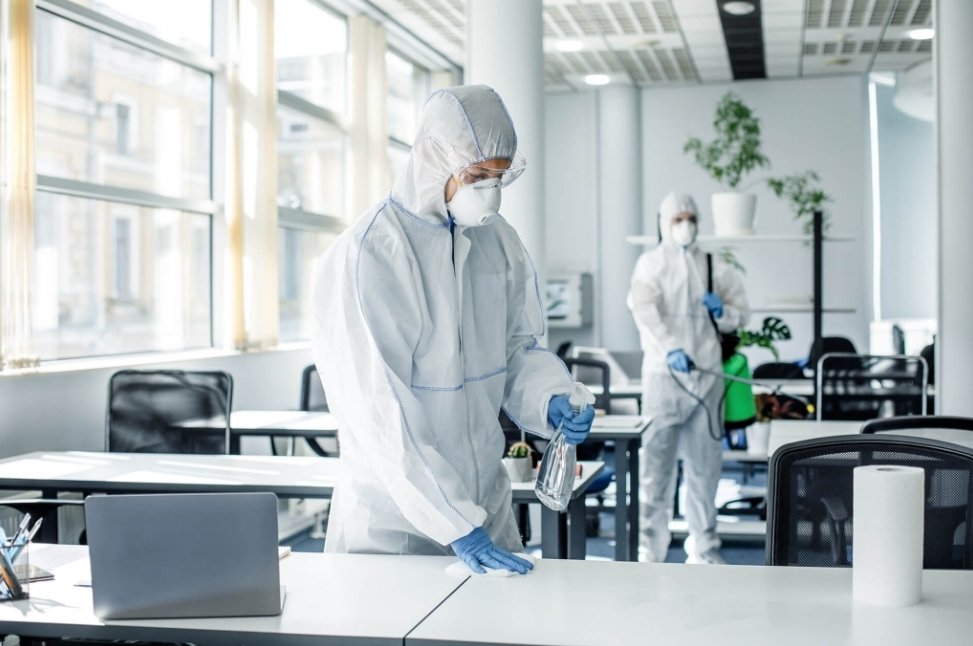 Advantages & Disadvantages Of A Contractor
V and W Cleaning experts are always willing to assist. We are pleased to talk more about our infection prevention services and how they might help you. Here are a few reasons why you should or shouldn't hire a professional commercial cleaning company:
Pros:
1. Cost and time savings
The most obvious reason why business owners do not want to hire a cleaning service is the perceived cost. What you don't realize is that you're probably paying more when you expect your employees to spend time cleaning up after themselves. You are preventing them from fulfilling their useful roles.
Hiring a V and W commercial contractor would be far less expensive and more efficient. You don't have to deal with the unpleasantness of setting and sticking to a cleaning plan. The entire team may acquire a negative attitude against somebody who is slacking off. You could wind up with a lot more problems that could have been easily avoided if the duty was delegated to a subcontractor.
Consider employing an in-house cleaning crew. You would, however, need to invest in their training. Cleaning chemicals have the potential to be hazardous. You would also have to adhere to OSHA regulations. Cleaning services are aware of these requirements because they are part of their daily operations. You would also need to employ a supervisor to oversee the cleaning crew.
2. Improved employee morale and productivity
Without a doubt, having a clean working atmosphere contributes significantly to enhanced productivity. Dirty, grimy, and cluttered offices or workspaces reduce focus and become a distraction. If you don't take care of your office, it will eventually show in your job standards.
When business owners or facility managers keep the office clean and pay attention to the details, it improves employee productivity. When you set high standards for cleanliness, your employees will take their jobs and obligations seriously.
Making your workplace healthy, sanitary, and clean shows your employees that you care about them. This aids in the establishment of strong standards, which eventually flow down to the entire staff. Employees feel respected and cared for when they arrive at work in the morning in a clean and fresh office.
The enhanced sense of loyalty and devotion will aid in the creation of an environment in which visitors are also cared for. This is especially critical for organizations that deal with customers.
3. Better health and safety
Without the assistance of a commercial cleaning firm, dirt, bacteria, dust, trash, and other particles can quickly accumulate. This can make your workplace appear unhealthy and unpleasant. The spread of germs can lead to widespread disease among employees, including colds, allergies, and the flu. Employee illness can cost many company hours. It is believed that the flu alone costs millions of dollars each year. In the long run, cutting corners may not save you any money.
Trained office cleaning staff will be familiar with the complete property map. They will be aware of the places that require frequent disinfection and cleaning. Day porter services can also be included in the contract to have a dedicated day porter take care of spills and other cleaning concerns as they arise. Restrooms and workstations are germ breeding sites. Commercial cleaners can be assigned the task of sanitizing commonly touched surfaces.
4. Improved company image
Every commercial facility must be clean and sanitary if it is to project a positive and respected image. You cannot expect clients and consumers to do business with you if you invite them into a filthy and foul-smelling environment. In most cases, first impressions are the last impressions. Furthermore, you cannot focus just on common spaces such as the lobby, corridors, and conference rooms while disregarding other sections such as bathrooms or kitchen facilities.
Without proper cleaning, you could lose thousands of dollars in revenue. Green practices have become a significant part of company branding. Cleaning products that do not include dangerous chemicals are used by professional cleaning businesses. Toxins such as formaldehyde have been shown to induce sickness and have carcinogenic consequences. Such approaches can help a corporation reduce its environmental impact.
5. Knowledge and experience
When you hire a professional cleaning service for your commercial property, you are essentially utilizing their years of knowledge. You can count on excellent service. Office buildings that receive regular deep cleaning are usually in good condition. Depending on the task type, commercial contractors have trained team members.
Janitors, for example, would be trained on the best methods for specialized cleaning chores such as parking lot, high traffic areas, and carpet cleaning. Based on this, renowned and established organizations will give a dependable day porter that looks after all public places and pays attention to the smallest details. For example, they may keep the windows and other glass surfaces spotless. You will get good value for money since skilled cleaners do more than just wipe a surface clean.
6. Use of proper equipment
Cleaning a commercial area involves a variety of equipment and instruments that are specifically developed for cleaning. You won't have to worry about investing in industrial or commercial cleaning materials when commercial cleaning services handle your property. They will use the appropriate equipment for the individual needs and cleaning task at hand.
In the long run, the majority of companies benefit from hiring commercial cleaners because they do not need to allocate additional funds for purchasing, repairing, or maintaining cleaning equipment. Having said that, most commercial cleaners do not charge extra for operating outside of office hours. This is not true for an in-house team.
7. Individualized cleaning contracts
The top contract cleaning firms will tailor the cleaning schedule to your needs, whether you hire them for the entire building or certain chores. They will assess your organization's cleaning requirements and make recommendations for services. Employers must take great care to maintain appropriate standards. Areas that get a lot of traffic, for example, may require frequent cleaning and disinfection.
A site visit is often performed by professional cleaning and janitorial businesses to better understand the job. This will allow them to inspect your facility and discuss any specific requirements. When it comes to maintaining a clean atmosphere in commercial office buildings, medical facilities, and other assets, the cookie-cutter approach rarely works.
8. Complete tranquillity
Running a business is difficult enough without having to worry about keeping your facilities looking nice. You should not have to be concerned about weekly or daily facility responsibilities. Outsourcing allows you to focus on other vital and productive duties rather than worrying about whether or not the paper towels or toilet paper are replaced.
CONS OF PROFESSIONAL CLEANERS
You may be wondering about the disadvantages of hiring professional cleaners. Before you employ a commercial cleaning company, consider the following scenarios:
1. Costly in the short term
Hiring professional cleaners will require you to add a new line item to your budget. This may appear to be a significant immediate cost. Needless to say, hiring commercial cleaners is less expensive than hiring in-house cleaners. Their focused experience also aids in avoiding cleaning mishaps and costly upkeep down the road.
2. Impairs the flow of work
The majority of employees are not bothered by general maintenance tasks being conducted during office hours. Certain departments, however, may not like having these critical functions performed. Based on this, if your place of business is fast-paced and has a strong traffic flow, the extra set of hands may contribute to the total confusion. Fortunately, a reputable cleaning and janitorial service would volunteer to do the cleaning during non-working hours.
3. Lack of personalization
It can be difficult to trust cleaners who come and go from the office at random. While there are tremendous advantages to hiring any type of daytime aid, not knowing the individuals who handle chores after hours is a different matter. This is not normally a worry in facilities with good building security. Others may need criminal history checks before hiring commercial cleaners.
To ensure we can meet the varied needs of our commercial clients, we book our commercial cleaning services for an hour at a time for the week. Is there a minimum number of hours you would like to book? Don't hesitate to call us at (804) 315-9573 if you need assistance.
How Long Does The Average Sanitizing Service Take?
We learn the ins and outs of each Richmond-area property we clean before we start services. Each of our clients receives a customized cleaning plan for services, and we offer industry-specific knowledge and skills to each of them in Richmond.
A cleaning contract contains various components that should be thoroughly studied. For example, if the contract is for basic cleaning and front lobby support provided by a reputable day porter service, the contract should specify the exact type, scope, relevance, and dates.
The contract should specify when the services will begin and when they will end. You may wish for the services to continue indefinitely until either side cancels. In such a case, the agreement may stipulate that the contract will last for a set period of time or until one side decides to terminate it.
You should make sure that the duties of a day porter, night janitor, and other cleaning personnel are clearly stated. Furthermore, the contract should clarify who will be accountable for primary access to your business and who will be allowed into the premises. To avoid confusion, cleaning times should be explicitly stated. You should also specify whether or not access will be granted on a daily basis.
We provide specialist commercial cleaning services in the following categories to Richmond-area facilities thanks to our considerable knowledge and competence in the cleaning industry of services in Richmond:
• Medical. Dentist offices, walk-in clinics, doctor's offices, and hospitals are all places where you can get your teeth cleaned.
• Commercial. Business offices, retail centers, managed properties, and financial centers are all examples of managed properties.
• Civic. Buildings of the government, schools, and religious institutions in Richmond.
• Mixed-Use Buildings. Automobile dealerships, restaurants, and daycare centers are just a few examples.
• Industrial. Factories, warehouses, transportation facilities, and processing plants are all examples of industrial facilities.
Our Advanced Business Sanitizing & Disinfecting Services
We use the most current cleaning systems and supplies for commercial in our field while offering commercial cleaning service in Virginia to facilities in the Richmond, VA region. Our HEPA-filter vacuum cleaners provide cleaner, healthier air, and our V and W Cleaning disinfection system provides hospital-grade disinfection and superior coverage to a wide range of surfaces and locations. The strong disinfectant from V and W Cleaning kills 99.9999 percent of bacteria and viruses on contact while being safe for employees and customers for commercial.
We focus on bacteria breeding grounds within facilities to keep workplaces healthy and reduce sick days as part of our commitment to providing facilities for commercial in the Richmond and Virginia area with safer and healthier commercial cleaning solutions. We also bring experience from OSHA, AORN, Joint Commission, and the CDC to ensure that Virginia's workplaces are safe and compliant with all health and safety standards.
Our JAN-PRO Tracker system monitors our performance against 50 distinct variables on a regular basis to ensure that we always deliver the superior cleaning services we promise. We guarantee your happiness with every cleaning and janitorial with this quality assurance method. Please let us know if our service falls short of your expectations. We'll be back within 24 hours to fix any issues.
Why Do You Require It?
A number of sanitary difficulties might cause a workplace to appear dilapidated and sloppy. Office cleaning contract companies are regarded to offer substantial value. Hiring a commercial cleaning company may be one of the best moves facility management can make. You should think about hiring a contractor who understands your company's requirements.
The personnel should be enthusiastic about delivering a clean and safe environment for the inhabitants. They should do an outstanding job with low danger of injury. Keeping your office clean is important not only for customers and competitors but also for your employees.
HIRE A BUSINESS SANITIZING CONTRACTOR TODAY!
Do you need a professional cleaning service to maintain your office looking its best? V and W Cleaning professionals can verify that your office, store, warehouse, factory, or other facility meets industry sanitation standards. Contact us today to learn more about the services we offer to help you keep your office looking its best. To arrange an appointment, please call (804) 315-9573 or fill out our online form.
The Leading Provider Of Green Commerical Cleaning Services
Bring our dedication to quality to your company. Our franchisees and team are qualified to deliver specialised cleaning for your building as the industry leader in green commercial cleaning and commercial janitorial services in Richmond. Every day, quote walk into your space knowing that surfaces are sterilised and areas are neat, allowing everyone to be focused read, productive, and, most importantly, healthy, bbb. We serve the following locations:
V and W Cleaning offers the most complete green cleaning options in the industry to businesses like yours. As a Green Business that provides LEED-compliant janitorial services, we request to take pride in being environmentally conscious. UV-C light, allergy-reducing HEPA filters, and microfibers are used in every part of the cleaning services provided by our franchisees to limit the usage of chemicals. Cleaning solutions that are Green Seal-certified, biodegradable, nontoxic, and low in volatile organic compounds leave your place spotless (Volatile Organic Compounds).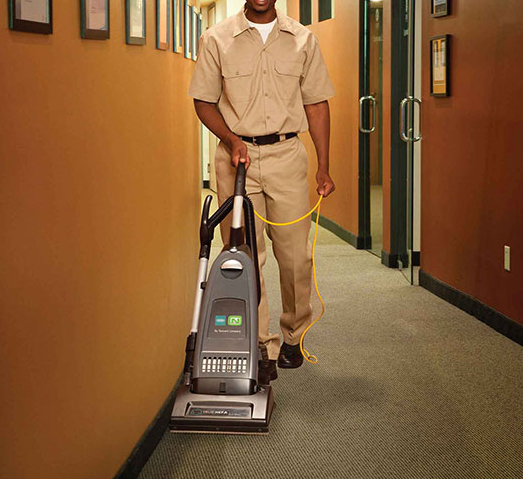 Professional Janitorial Cleaning Service With Quality Results, Richmond VA
V and W Cleaning is more than just a garbage removal service. We've made a commitment to you. Each Stratus franchisee goes through a two-week intensive training programme to become certified in V and W Cleaning Procedures. We always wear a uniform and a photo ID when we go to work as professionals. Our customer service emergency line is available to you 24 hours a day, 7 days a week. Among our safeguards are:
∙ $2 Million in General Liability
∙ Workers Compensation
∙ Theft Policy Coverage
∙ $50,000 Janitorial Bond
World-Class Pro Green Commercial Cleaning
V and W Cleaning provides world-class commercial cleaning and janitorial services tailored to your company's demands. We determine your specific cleaning requirements by examining your office space or facilities. Following that, we may tailor a variety of janitorial services to meet your specific cleaning needs, such as delivering eco-friendly, authorised green commercial cleaning processes and the usage of Green Seal Certified chemicals. At our inexpensive pricing, no other janitorial business offers this amount of customisation!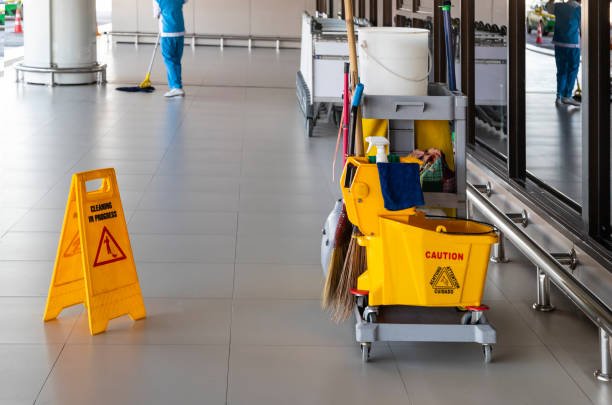 V and W Cleaning Services LLC
With its own proprietary line of Green Seal Certified (GS-37) V and W Cleaning chemicals, Stratus is setting new standards in the office cleaning market by being the first to offer Green Cleaning janitorial services:
Biodegradable
Non-Toxic
No Known Carcinogens
No VOCs
Fragrance Free
Green Seal Certified
V and W are two names for the same person. Any business's environmental and health-conscious needs are met by cleaning goods and services. Inquire immediately to create a clean and safe workplace for your customers and staff!