Residential Cleaning
Clutter is piling up, dust bunnies have established their own eco-system, and you're too preoccupied with life… Every one of us has been there. When life gets in the way, it's difficult to find time to clean the house.
It's time to reclaim your life. Allow V & W Cleaning to clean your home and start winning the battle against dust bunnies!
Yes, we will clean your home!
If you need a house cleaning service in your area, whether it's a 500 square foot apartment or a 5,000 square foot house. We're here to assist you! We clean homes of various sizes and shapes. From single-family homes to apartments and townhomes. We clean throughout the valley and even provide an hourly service for odd jobs that do not necessitate a full home cleaning. We are adaptable and can assist you regardless of your situation.
We Guarantee You'll Love the Service
There are numerous factors to consider when selecting a great house cleaner. We know what we're talking about! It can take months to find a truly great team! We interview hundreds of cleaners before hiring one who meets our standards. This is due to the fact that with our 200 percent guarantee, we can only afford the best cleaners in the valley! We've already done the legwork of assembling a fantastic team, and we've put our money where our mouth is.
No Estimate Needed
Our home cleanings are flat-rate, which means there are no estimates or in-person visits required for a quote. Simply tell us the number of bedrooms and bathrooms in your home, as well as anything else that needs to be cleaned, and place your order. It's really that simple!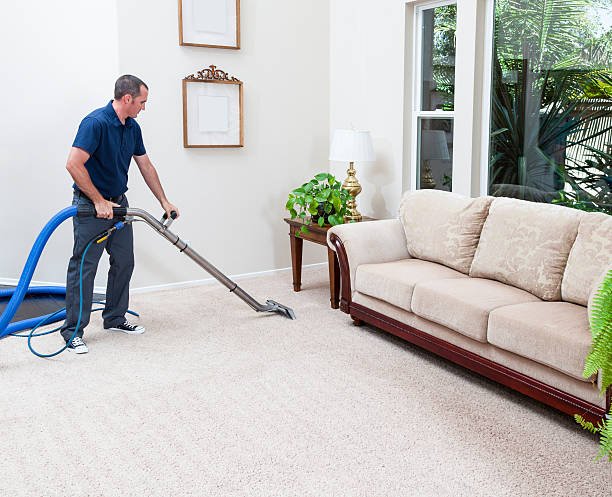 What's included?
When we arrive for a cleaning, we adhere to strict guidelines to ensure that we provide a world-class cleaning service every time. The following is a list of the services we provide as part of our regular home cleaning service.
Kitchen Spaces
Cobweb Removal: We will have one of our specialised teams remove cobwebs from corners.
Ceiling Fans: We will clean all traces of dirt from your ceiling fans. (as required)
Kitchen Cabinets: We will take special care of your kitchen cabinets. Wiping them down with a damp cloth and removing dust and buildup from the outside. As an add-on service, inside the cabinets is available.
Clean the stove top and the stove fan: With our non-scratch sponges, thoroughly scrub grates, drip pans, and surface tops.
Deep Clean Microwave: We will deep clean the microwave as well as wash and dry the microwave plate.
Clean Countertops: We clean countertops such as marble and stone.
Clean the outside of large electronic appliances such as refrigerators, ovens, dishwashers, and others. As an add-on service, the interior of those appliances is available.
Scrub and Clean Sinks: We will scrub the sink and load any dishes into the dishwasher.
Polish Stainless Steel Surfaces: We will polish all stainless steel surfaces, including appliances.
Empty Trash Can: If you provide us with the location of new bags, we will empty the trash can and replace it with new bags.
Dust and Wipe the Laundry Area: We'll wipe down the outside of the washer and dryer.
Vacuum Kitchen and Laundry Floors and Rugs: Our machines are specially designed for deep cleaning rugs and safe tile polishing.
Mop Kitchen and Laundry Floors: Mopping the floors in high-traffic areas such as hallways, kitchens, and laundry rooms is an important finishing touch that is included with every cleaning.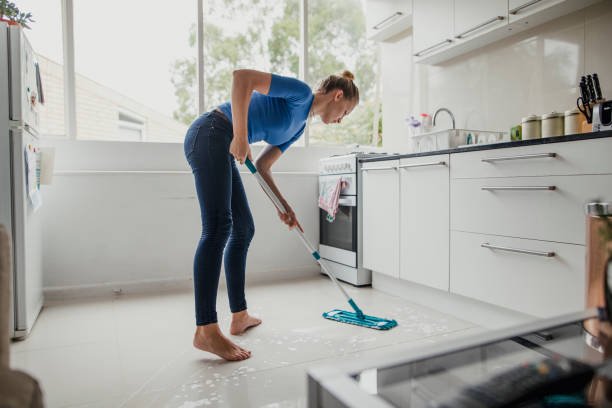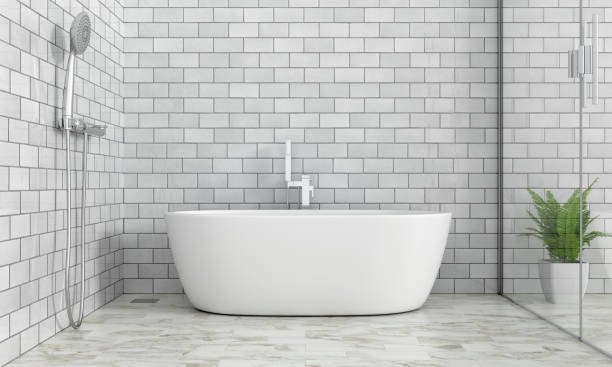 Bath and Tub Spaces
Clean Countertops: We use environmentally friendly products to clean appliances as well as marble and stone surfaces.
Shine Chrome and Clean Mirrors: All mirrors in the bathroom and tub areas will be cleaned. Prepare for a new look at that lovely face of yours!
Cobweb Removal: All cobwebs in corners will be removed.
Bathroom furniture: We wipe away any dust, marks, or spots. (as required)
Empty Trash Can(s): If the trash can is full, we will always empty it and replace it with new bags. Please let us know where you store the new bags, or leave a few on the kitchen counter for us to use.
Mop Bathroom Floors: We will mop the floors, leaving a fresh scent behind (no chemical cocktails).
Scrub and Clean Showers: We scrub and clean the walls, doors, and floors of the showers.
Scrub and Clean Sinks: For your fixtures, we use non-scratch tools and products.
Scrub and Clean Toilets: We scrub and clean the toilets and ensure that the base is completely wiped.
Scrub and Clean Tubs: We scrub and clean tubs as well as wipe down adornments and surfaces.
Dust/Wipe Doors: Please let us know if you need us to wipe down the doors, and we'll take care of it.
Vacuum Bathroom Floors and Rugs: When vacuuming bathrooms and rugs, we take extra care.
Wipe Bathroom Cabinets (Outside): We clean the surfaces of the cabinets.
Bedroom and Living Spaces
Detail Cleaning of Ceiling Fans: We deep clean ceiling fans and remove all dust. (as required)
Cobweb Removal: Cobwebs will be removed from corners, ceilings, and behind furniture by one of our specialised teams.
Dust Bathroom Furniture: We wipe any dust, marks, or spots off bathroom furniture.
Empty trash in all bedrooms, living rooms, and office spaces: Once Maid Service is completed, we will take trash to the garbage or dumpster (if possible).
Make beds and change bed linens (if they are left on top of the bed): Leave the bed linens on top of each bed and we will change them.
Vacuum all carpet, small rugs, and stairs: For floors and rugs, we use special floor attachments.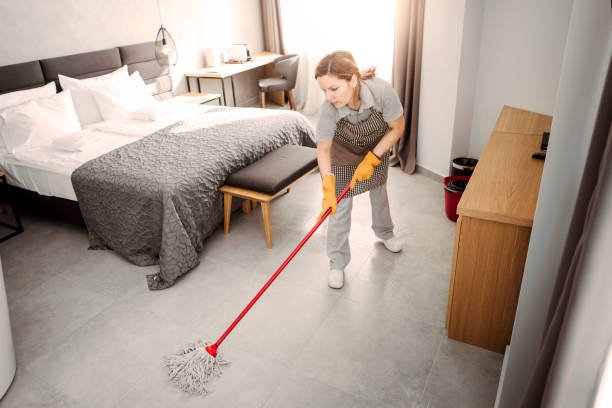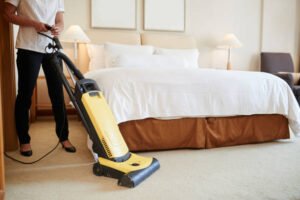 Additional Services Available
Vacuum and Clean Inside Cabinets and Drawers
Fridge Cleaning
Oven Cleaning
Clean Windows Inside
Dust blinds
Clean baseboards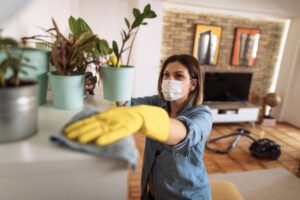 It is important to note that each cleaning is unique, and no two homes are alike. Because each service is tailored to your specific needs, not all services are available at all times. Our cleaners are professionals, and it is entirely up to them to determine what needs to be cleaned and what does not. Depending on the state of the house, some cleanings will receive more attention than others.
Make sure to inform your cleaning specialist of any special needs you may have at the start of the cleaning, including any areas you would like them to pay special attention to. We will always make certain that you are completely satisfied with the final appearance of your home.
Still not sure?
Still on the fence about hiring a house cleaning service? Please contact us! We are happy to answer any questions you may have. You can also make an appointment using our online booking system; you have complete control over your appointment. You can change your appointment times, add new services, or cancel at any time.
Things We Can't Clean
There aren't many things we can't clean, but here's a partial list…
Light bulbs and lighting fixtures: We will not clean or wipe down light bulbs. We can't clean these because they're too fragile and pose too much of a risk.
Garages and patios: With the heat in Arizona, we need to keep our teams indoors. We can't clean outside because it's too dangerous. Furthermore, we lack the necessary pressure washers to clean patios and garages. As a result, we do not clean garages or patios.
Outside windows: Cleaning outside windows may necessitate the use of ladders and specialised equipment. Our teams are only equipped to clean inside windows that can be reached using a small step ladder.
Don't Wait
Book your appointment today to reclaim the war against dust bunnies! We can't wait to assist you with your cleaning.