Tile & Grout Cleaning | Richmond Grout & Tile Cleaners
It's hard work to clean tile floors by hand. It's messy and uncomfortable, and you can't get the deep clean that comes with having a professional clean your tile and grout. This is because regular mopping will never get to the dirt that is deep in the pores of your grout lines. Grout is porous, so it soaks up dirt, grime, and spills, which can make the surface look dirty.
Our professional V and W tile and grout cleaning service uses our own hot water extraction cleaning method to get rid of dirt that is hard to reach and bring back the shine to your floors. We'll also get rid of 96.5% of the allergens in your grout.
Know That Your Tile Will Be Cleaner Than Ever!
Why Choose Us?
Our cleaning methods give your floors the deepest clean possible, but we are also committed to using methods that are safer for your home and your family. Here's what our cleaning professionals can do:
We Guarantee You'll Love the Service
OUR EQUIPMENT FOR CLEANING TILES AND GROUT – We use a high-pressure water and vacuum system and a cleaning solution that doesn't leave a film to clean tile and grout.
FREE DEMONSTRATION INFORMATION ON HOW TO CLEAN TILES – We'll come to your house and show you how we clean tile and grout so you can see for yourself before you hire us.
BETTER AND CLEANER – Our process for cleaning tile and grout gets rid of an average of 96.5% of common allergens found in homes.
STAIN RESISTANT GROUT – With a final coat of V and W's personalized clear grout sealant, your grout lines will be protected from small spills and stains.
A PREVENTION DETERRENT – Just like carpet, grout is made of a porous material that soaks up dirt and spills. By putting a sealant on your grout, you protect it and make it easier to clean up spills before they soak in.
RESTORE OR CHANGE GROUT COLOR – For deep, stubborn spots, we recommend our color sealant, which will restore your grout to a uniform color and give you all the same benefits as our clear sealant. You can even change the look of a whole room by painting it a different color.
Our  Mission
We try to clean with mild, neutral chemicals that are tough on dirt but safe for the environment as well as the pets who live in your home. The same goes for everything we do! Contact Our V and W Cleaning Experts For More Today!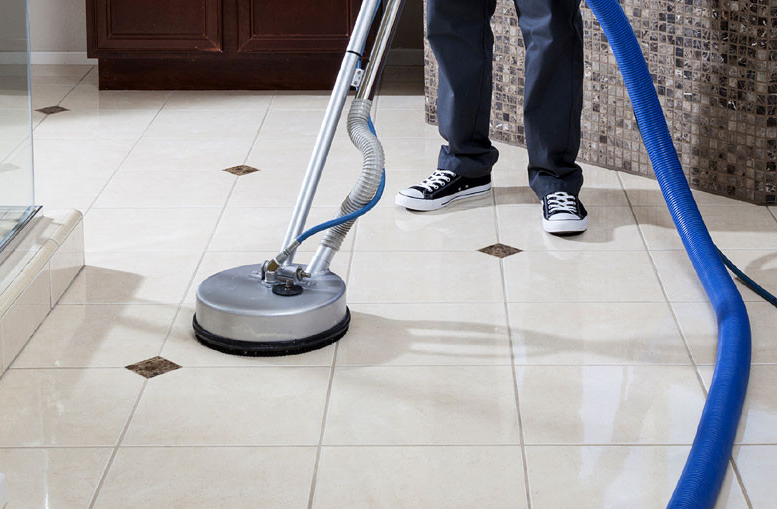 Tile & Grout Cleaning | How To Clean Tile?
When we arrive for a cleaning, we adhere to strict guidelines to ensure that we provide a world-class cleaning service every time. The following is a list of the services we provide as part of our regular home cleaning service.
How To Clean Tile & Grout
Before we clean your tile and grout, our technicians look at your floor to make sure they use the right cleaning method. They will look at the type of tile you have and see if the grout is damaged anywhere.
Then, we start cleaning your tile and grout by scrubbing the grout between each tile with a cleaning solution that has the right pH level. This gets rid of the dirt that gets stuck in the grout's tiny holes.
Next, we use our machines that are made just for cleaning tile and grout, as well as tile floor cleaner. These machines force hot water onto your tile and grout, where it gets into the cracks and pulls out the dirt.
Lastly, when we're done cleaning, we'll look over your tile and grout with you to make sure you're happy with it. During your appointment, you can also ask for one of our technicians to clean other floors for you.
In a few hours, your tile and grout will be dry.
We can clean the tile and grout in your home or business, no matter what kind of tiles you have or how big the room is!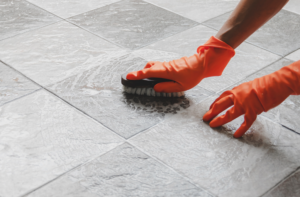 Grout Cleaning Process | How To Clean Grout
When we clean tile and grout in a business, we use the same grout cleaning process method as when we clean tile and grout in a home. We start by looking at your tile floor to figure out the best way to clean it. Then, we'll use our tile cleaning machines to pump hot water onto and into your tile and grout while pulling out dirt and allergens.
You can also add a color seal to your grout to make it stay cleaner for longer. Color seal acts as a barrier to keep dirt from getting into your grout. Here's what you need to know about grout cleaning:
HOW TO CLEAN GROUT:
Follow the steps below to clean the grout between tiles:
Use hot water and a towel to get rid of dirt on the surface.
Combine 1/2 cup of baking soda, 1/4 cup of hydrogen peroxide, and 1 teaspoon of dish soap.
Spoon cleaners on the grout and let them sit for 5 to 10 minutes.
Use a brush to clean the grout lines.
Tip for cleaning grout: Scrub hard to move the grout and cleaning solution around and break up any dirt that is really stuck.
Clean up.
To keep a clean home, you have to clean the tile and grout floors yourself. However, V and W's state-of-the-art cleaning equipment can deep clean and remove so much more.
CAN GROUT BE STEAM CLEANED?
People often ask how to clean tile and grout with steam. We don't use steam to clean at V and W. To clean grout, we use a method called "hot water extraction," which is also called "steam cleaning" because of the steam that comes out of the tiles as we clean. If you want to know more about how we clean tile and grout, check out this page about how we clean tile and grout.
Products Recommended To Clean Grout:
Baking soda
Hydrogen peroxide
Soap for washing dishes
Spoon
Tool for Scrubbing
Towel
Boiled water
Through our corporate training program, we teach our technicians all over the country what we have learned. This program includes both classroom and hands-on learning. We learn about safety, customer service, and how to clean. And we always learn something new. Our technicians are always prepared to take on any grout cleaning services and tile cleaning job put in front of them!
Grout & Tile Cleaning Tips | Grout Cleaner Soft Scrub & Tools
WHEN CLEANING TILES AND GROUT, USE THESE TIPS:
Use sealants that work by reading reviews and ratings to ensure your tile floor stays beautiful and keep sealants from wearing out too quickly.
Always sweep or vacuum before you mop to get rid of as much dry dirt as possible.
Always rinse the mop after using it.
Don't use bleach or other harsh cleaners because they could damage the grout and sealants.
Your tile and grout get dirty quickly because grout is porous and easy to change color. Because dirt can get into grout so quickly, you might not even know what color it was, to begin with. You can clean your tiles and grout with things you already have at home.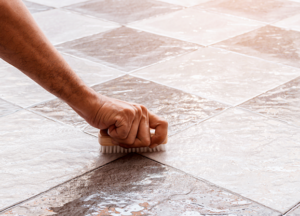 It is important to note that each cleaning is unique, and no two homes are alike. Because each service is tailored to your specific needs, not all services are available at all times. Our cleaners are professionals, and it is entirely up to them to determine what needs to be cleaned and what does not. Depending on the state of the house, some cleanings will receive more attention than others.
Make sure to inform your cleaning specialist of any special needs you may have at the start of the cleaning, including any areas you would like them to pay special attention to. We will always make certain that you are completely satisfied with the final appearance of your home.
Still Not Sure?
Still not sure if you want to hire someone to clean your house? Please get in touch! We're happy to answer any questions you might have. You can also use our online booking system to make an appointment. You have full control over your appointment. You can always change the time of your appointment, add new services, or cancel.
Don't Wait
Book your appointment today to reclaim the war against dust bunnies! We can't wait to assist you with your cleaning.